Medical Miracles: Doctors, Saints and Healing: Medical Miracles in the Modern World.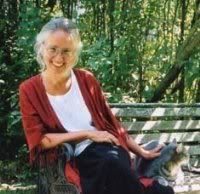 Jacalyn Duffin
Review:
Medical Miracles: Doctors, Saints and Healing:
Medical Miracles in the Modern World. a book by Jacalyn Duffin.* This is an extremely valuable archive. See
Doxa
.
Duffin's work is meticulously scholarly. She is both a fine historian and a top level medical researcher. She began her quest to investigate the secret arches of the Vatican regarding their saint making miracles and the records for healing in 1986. At that time someone brought her some medical records of a woman with Lukemia. She assumed the woman must be dead as the records shows the Leukemia was in advanced stages. She was amazed to find the woman was alive and perfectly well. She then learned that her diagnosis was part of the validation process for the Vatican in a saint making miracle. She had not been told until after the diagnosis what it was about. Years latter the saint was canonized she was invited to ceremony and when she realized her work would be in the secret Vatican archives forever she began seeking permission to examine their records of healing.
The resulting book, published so many years latter (1986 when she first examined the medical x rays to 2009 when the book was punished) is a scholarly work of the highest caliber. It is not an apologetics book. She does comment in the work that she believes in miracles, but she says what she believes in more than miracles is the honesty of the doctors and witnesses involved int he process. What the reader will not come away with in reading this book is some hackney cheapo apologetically argument about "miracles are proved therefore God is proved." this is nothing of the sort. This book could have been read in my Ph.D. work in secular university and not been rejected as scholarly. What the reader does get is an answer the mocking atheists who assert with bigotry and boldness that anyone who believes in miracles is an idiot and dupe and that the doctoral "work the Vatican" they are just trying to get more miracles. That's obviously silly if all they wanted was lots of miracles they wouldn't have such rigid rules and they would not have so few miracles. She voices a real confidence in the doctors and one can see why becuase she documents their total skepticism. Even the doctors working in the Vatican process are not just eager miracles mongers they re scrupulosity skeptical of all claims. That's the major thing a reader will take away from the book.
Duffin examines 1,400 miracles from the middle ages to modern times. This is not the full number. There's a huge archive with lots more where those came from. These are not Lourdes miracles they are miracles involved with saint making. Although, they use the same committee and the same rules. One of the most surprising things she shows is that the miracles go through cycles. That's not so amazing if you think about it. One major reason is the awareness of medicine and diseases improves over time and that changes our understanding of what peopl eight be healed from. For example tuberculosis and leukemia didn't exist int he middle ages, not as thing of which we were consciously aware. So if someone was weak and sick and got better they might say she was held of "weakness" or something like that then she could die a couple of years latter of some unknown cause which would be written off as "fever." That would be listed as "healing for weakness" a miracle whereas she goes on to die of Leukemia.
This is a problem and it's a reason for the modern debacle with the medical committee being on strike. The Vatican wants lower the standards. The researchers are totally against it. Even without that problem there's another in terms of better diagnostics. As we become more aware and more able to cure there are fewer people who have not been treated by modern medicine more awareness of natural healing. It's not going to turn out that all the former miracles are mistakes of diagnosis. There are some can't be explained. There many resurrections form the dead, not two are three, but a whole huge body of work on the subject, hundreds of resurrections. Of course early ones can be suspected because they might have been in a coma. It's not that cut and dried when a person is dead. There are latter ones as well. There are also overnight miracles such as
Charles Anne's lungs
growing back over night. That's not a problem of diagnosis becuase no process can grow new lungs in people overnight.
The book is written in a scholarly fashion, although accessible to the layman. It has a welth of information in the form of charts, graphs, and tables. It traces the rise and decline of various miracles as their diseases become medically known or forgotten. No healing from "Dropsy" becuase it's not considered a disease anymore. One has to like this kind of writing, but it doesn't go into detail on grotesque aspects. This is a great book, this is the documentation for modern miracles we have been waiting for. Although it is only scratching the surface of investigation in the wealth of documents at the Vatican archives, all all ground breaking works it does get the ground turned up.
*from Bio on Amazon.com
Jacalyn Duffin, M.D. (Toronto 1974), FRCP(C) (1979), Ph.D. (Sorbonne 1985), is Professor in the Hannah Chair of the History of Medicine at Queen's University in Kingston where she has taught in medicine, philosophy, history, and law for more than twenty years.
A practicing hematologist, a historian, a mother and grandmother, she has served as President of both the American Association for the History of Medicine and the Canadian Society for the History of Medicine. She holds a number of awards and honours for research, writing, service, and teaching.
She is the author of five books, editor of two anthologies, and has published many research articles. Her most recent book is an analysis of the medical aspects of canonization, Medical Miracles; Doctors, Saints, and Healing in the Modern World, Oxford University Press, 2009. It was awarded the Hannah Medal of the Royal Society of Canada...
see also:
The Miracles: A Doctor says "Yes"
by Richard H. Casdorph.(Logos International, 1976)
this is not a scholarly source. It's a popular source written by a doctor that does present medical evidence.