Dialogue with Skeptic on mystical experoience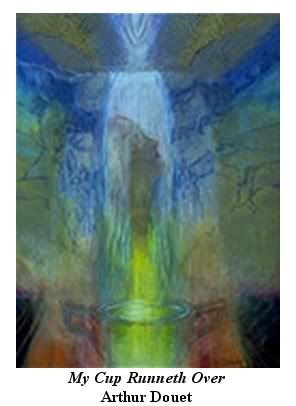 Skep:




(1) You say that the mystical experience is something special. It's something that is unknown to atheists. That was the central point of your article

Children of the lack of God

. you say that the M-scale is used to distinguish a true mystical experience from the real thing.
Meta
I said in asteresk that many atheists do have mystical experience, The point is when they do the experiences are the same, this indicates it's the experience o an objective reality,
Skep:




(2) You say that there are over 200 empirical studies back up your claim that mystical experience provides warrant for belief. A key element of this is that mystical experiences produce positive life changes, and this is shown by all these studies.
Meta
yes
Skep:

I looked at your bibliography (and read whatever abstracts i could find), and it appears that most of these don't really deal with mystical experiences.
Meta:
that is a lie. you can't know it based upon the titles in the bib I already showed you why because (1) you don't know the terms so you don't get that "Higher consciousness" is euphemism for mystical experience.Mystical experience is part of the larger topic of spirituality so you night have a study on spirituality that includes mystical experience.
(2)all of this is cheating because you refuse to read the evidence then you can't to attack the work but you have no idea what you are talking about.
(3) it's useless to tell me you have seen abstracts and not tell me which ones., you can't expect me to defend it if i don't know what it is. I thinks that is dishonesty because you did not really read them.
Skep:


Most of them are merely about spirituality.
Meta:
You don't know the termenology so you see "higher consciousnjess" and yiuo dont know tht it is about mystical experience, Spiritualoity is the larger umbrella topic for mystical experience. somethig night well becalled :a look at spirituality: and it would include a lot about mystical experience. I organized this bib and I read gteh sojrce and i know they about nystical experiences,
Skep:


But now you're claiming that they really are about mystical experiences.
Meta:
I've never cklaied otherwise
Skep:


I ask, how does "Effect of meditation upon SREM" support your thesis? Your reply is I'm not going through this sophomoric bullshit with another atheist. You tell me all that material is about mystical experiences.
Meta:
No I did not say that to that question
Skep:


(4) There's a HUGE disconnect between (1) and (3). If (3) is true, then any kind of higher consciousness would qualify as a mystical experience.Sam Harris meditating would count just as much as someone who scores perfect on the M-scale.
Meta:
O brother your understanding is much niore rudimentary thanI thought, Medittion is a trigger for mystical exereince that doesn't mean a nyone time somone edicates it;s mystical, nor does it mean that any ystical experience is auotmaticaly a perfect score on the N scale, the scale is a way of valikdatinv hkow closly to Stace's theory modern people expeirnce, so there;s a range It's just autojatic that my nysticak experience is a perectvscroe. As it so happensw the studieson the bib about TM and other nedication do inclkudemystical expoereince,
Again if you buy the book I go thorugh eachstduuy and showv the methodology
Skep:
But then what use is the M-scale? What makes a mystical experience so special? And how can you go around claiming that atheists don't have the same experiences as religionists?
Meta:
There is no reason why I shoulkd put up with such willful,l ignoranc and obstinant obfiuscation, All those very basic obvious quiestionsI have answered timne and time again, read the article I postedhere on Monday, it very carfeuully ansers these questionss, this time read tghe whole article ot just the fierst line.
do you have problems reading? do you a reading disability? is this why you never read the materaial. All these kinds of baskic questions that I have answered over and you would kijnow that had you red anything i've posted.
Skep:


What I'm asking of you is to explain this discrepancy. And if you don't care to discuss it here (which would be strange because you did post this article, and it is specifically about what I said), please come to my blog and discuss it.
Meta
you thinking is very literal and you don't know anything. That;s the dependency,
I will not put up any more of your crap. I spent years gong through slander and abuse and crap from stupid illiterate atheist who did not give a rats ass what truth is. your response is irrational, irresponsible, stupid, and amounts to bullying. The academic world provides for proper means of dispute, That is why foot notes exist so critics can look up the material, I do not have to provide you with studies,I already did the research,If you want to distrust it just say you dont trust anything a Christian says get off blog. I will not play these assinine games,,